Great news! SIDEKICK for WordPress is compatible with your Multisite network. Not only that, but we've put (and continue to put) a lot of effort into this feature to make management and deployment as simple and straightforward as possible.
This article will take you through how SIDEKICK for WordPress Multisite works and how to manage sites within your network.
The Multisite Activation and Management feature allows you to:
Easily auto activate your SIDEKICK license across all sites on your network
Set a Walkthrough to auto-start the first time a new user logs into any site on your network
Enable and disable walkthroughs and walkthrough categories network wide from one screen
A few important points before you get started:
You DO NOT have to download a separate plugin or do anything special to activate Multisite compatibility. Everything you're about to see is automatically activated when SIDEKICK detects you're on the Network Admin screen.
SIDEKICK for Multisite requires an active, paid WordPress Basics account. We also have Custom Walkthrough account compatibility for WordPress Plugin and Theme Developers.
Each site you activate inside your network, including your parent site, count against your plan's Active Site count. Deactivating a site frees up a space in your allotment.

If you need more than 300 active sites at one time or have any questions, please  contact us.
Setting up SIDEKICK for Multisite
After you install and activate the  SIDEKICK for WordPress plugin, hover over Settings and click "SIDEKICK"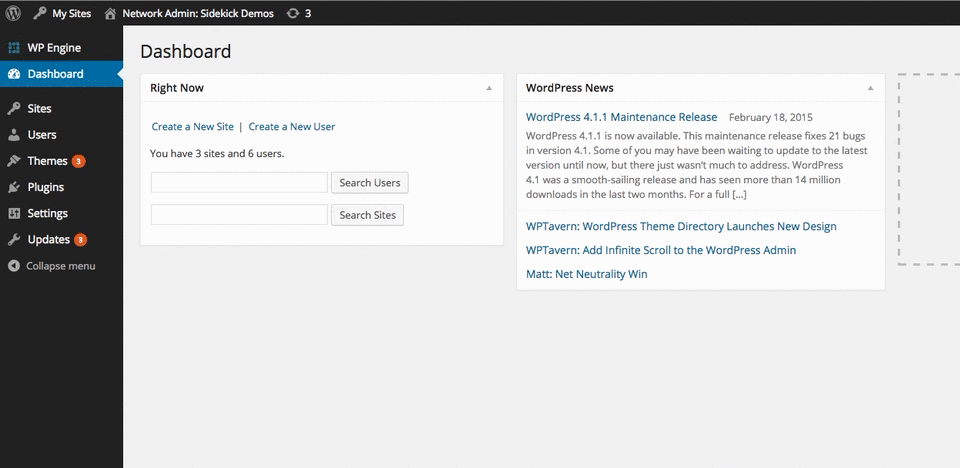 There's no need for a license key, just put in your account login and password (nifty eh?!)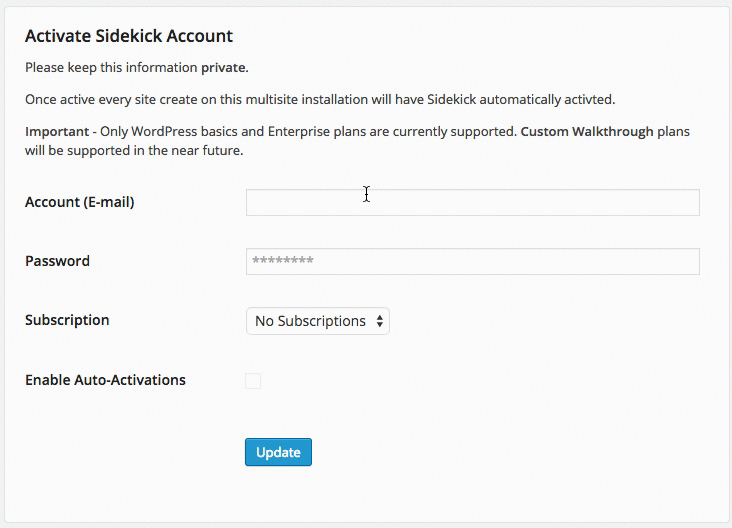 After you're logged in, you will see your subscription level, an option to auto-activate new sites and the number of site activations you have available on your account.
"Enable Auto-Activations" When checked, any new site you add to your network will automatically be activated so that site's users will see the Walkthroughs you have available. Each activation will count against the number available in your account.
If you prefer to manually add sites, you can do so from the box below which lists all the sites on your Multisite network.
"Activate All" activates your subscription on all currently installed sites but not future installs.
"Turn On" activates that individual site.
(To Deactivate a site you will need to go to the SIDEKICK menu on that site (under Settings) and manually remove the license key.)
Auto-Start a Walkthrough on your Network
If you would like to auto-start a Walkthrough the first time a user logs in globally on your network, select the Walkthrough from the drop down and click save.
You can manually override this on a site by site basis by logging into a member site's admin panel and changing this setting in the SIDEKICK Settings page.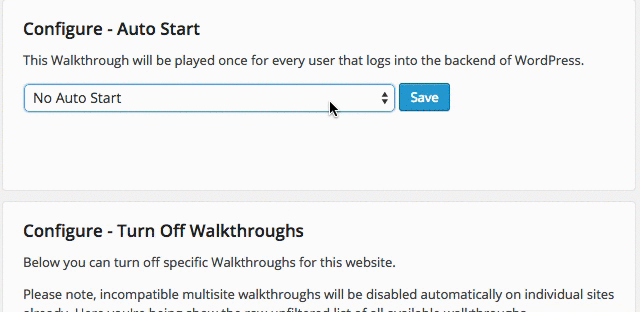 Disabling Walkthroughs Network Wide
To disable one more Walkthroughs across your entire network, check the box next to the Walkthrough and click save. The "Toggle All" buttons are handy for enabling or disabling entire categories.
This CANNOT be overwritten by an individual network site.
SIDEKICK automatically disables Walkthroughs that are irrelevant to a given install or network.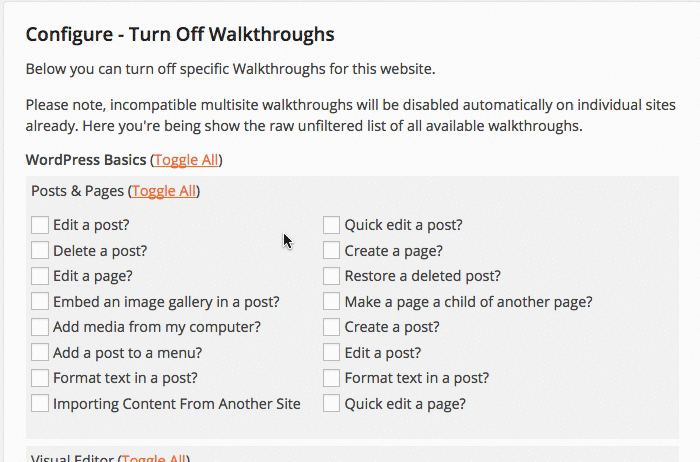 That's it. If you have any questions or you would like us to add or improve a feature/function, please let us know.